Insights | Article | A Guide to Cleantech Investing
A Guide to Cleantech Investing
13 June 2023
Investors can support climate solutions by investing in Cleantech, reducing exposure to climate risk and carbon emissions. Bloom Impact Investing released a comprehensive guide featuring sustainable stocks and assets, providing resources for positive climate impact and profitable investments. It covers various sectors, including energy, transportation, and waste management, and extends beyond renewable energy and electric vehicles.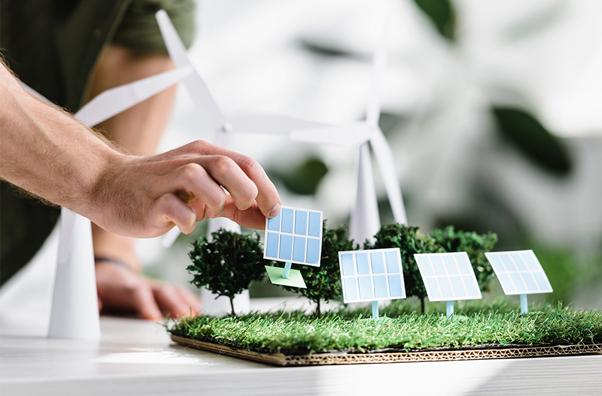 Investors can drive climate solutions by investing in clean technologies (Cleantech) designed to significantly reduce carbon emissions and resource waste. For this purpose, Bloom Impact Investing, an Australian financial technology (Fintech) company, recently released a guide featuring stocks and assets with climate solutions and sustainability credentials. In selecting companies and industries with sustainability credentials, investors add value to their investments by reducing exposure to climate risk while contributing to reducing global carbon emissions.
Carbon offsets have become a popular strategy for reducing greenhouse gas emissions. This approach involves investing in natural carbon sinks, such as forests, by planting trees to absorb carbon from the atmosphere. By offsetting the carbon emissions of a product or service, companies and individuals can neutralise their carbon footprint. While natural reservoirs can play a significant role in mitigating emissions, the current sources of greenhouse gas emissions exceed what nature can absorb. In fact, only 41% of total emissions are absorbed by land, coastal, and ocean sinks, while 59% remain in the atmosphere. This highlights the need to not only invest in increasing natural carbon sinks but also in reducing the sources of emissions, such as through the use of renewable energy sources and energy-efficient technologies. 
As we move into the decade, climate concerned investors can ask their advisers and seek resources that will support their portfolio to have a positive climate impact whilst generating profits. As a new report by the UN shows, much more is needed to ensure net zero in the coming years. A The recent election results in Australia and the commitment made by Prime Minister Anthony Albanese to reduce emissions by 43% by 2030 and achieve net-zero by 2050 signal a growing political and regulatory trend toward taking action on climate change. This shift can provide further opportunities to invest in companies and sectors that are committed to reducing their carbon footprint and developing sustainable products and services.  
THE COMPLETE GUIDE TO CLEANTECH INVESTING
Bloom Impact Investing's, The Complete Guide to CleanTech Investing, provides investors, both experienced and new to impact investing, with a comprehensive resource for investing in companies that prioritise sustainability. The guide sorts greenwashing from the companies that are genuinely making a difference in addressing climate change. It navigates different climate frameworks and covers a range of industries, showing that responsible investment goes extends well beyond solar energy and electric vehicles. The guide not only offers a list of companies from Wall Street, but it also holds a large variety of stocks that are listed in the Australian Stock Exchange, as well as European markets.
Bloom's guide to cleantech investing is an excellent resource for investors who are new to the field of climate impact investing. The guide provides comprehensive information that can save investors hours of research into cleantech investments and offers science-based solutions to climate change. See below for some examples of the companies featured in the guide, sorted by sector.
Energy

The energy industry has caught the attention of people seeking to invest for climate impact. Along with land use and food production, it is one of the most powerful tools we have to fight climate change. Despite this, it is the sector that emits the most carbon, generating 25% of the world´s emissions. With companies like New Energy Solar (NEW) and Meridian (MEZ), both listed in the Australian Stock Exchange, Bloom presents a list of companies that provide reliable energy production. Wind and green hydrogen also make into the list. For example, Iberdrola SA- BME (IBE), a Spanish company that provides and distributes clean, reliable energy generated through onshore and offshore wind, hydro, solar PV, combined cycle gas, nuclear, and biomass. And NEL- ASA (NELL), a Norwegian company that operates through Nel Hydrogen Fuelling, which produces fuel cell electric vehicles.  
Transport
Transportation is a critical industry where investors can make a significant impact by supporting companies that prioritise sustainability. One of the most promising areas of innovation in this sector is the development of electric vehicles, including cars and bicycles, which are powered, at least partly, by rechargeable batteries. If powered by renewable energy, this combination could reduce emissions drastically. For transportation, Bloom lists ABB, a company that specialises in electrification, automation, robotics and motion products. ABB's services include items such as EV infrastructure, control technologies, and electrical motors. In 2022, ABB was contracted to provide environmentally sound engineering and technology solutions for Ioneer, an emerging American lithium-boron supplier. Through this partnership, Ioneer released the world's fastest EV Charger – 100km in 3 minutes or fully charged in 15 minutes.  
Waste
Waste management plays an important role in climate impact. On the list is Cleanaway Waste Management – ASX (CWY), an Australian company that provides waste management services at the business, industry, and community levels. Cleanaway's operations are facilitated through a three-pronged model focusing on solid waste services, industrial & waste services, and liquid waste & health services. The company has recovered more than 35kt of steel and aluminium and during Brisbane's 2022 floods, Cleanaway worked with the Brisbane City Council to collect 100,000 tonnes of waste.  
Going beyond electric vehicles and clean energy, the Complete Guide to Cleantech Investing, includes new investment opportunities in innovative sectors such as food, net-zero buildings, public transportation, telepresence, energy storage and recycling, all of which have stocks listed on both the Australian and international markets. 
Please note that the information provided in this article is for educational purposes only and should not be considered financial advice. Readers are advised to seek professional financial advice before making any investment decisions.