Altiorem is a not-for-profit library and resource centre that:
Helps people understand the role finance must play in addressing sustainability challenges and building a better future for all.
Supports advocates for sustainable finance in making stronger arguments for change, and implementing solutions with real impact.
Helps a new generation of leaders gain a solid understanding of critical sustainability issues and their relevance to business and finance.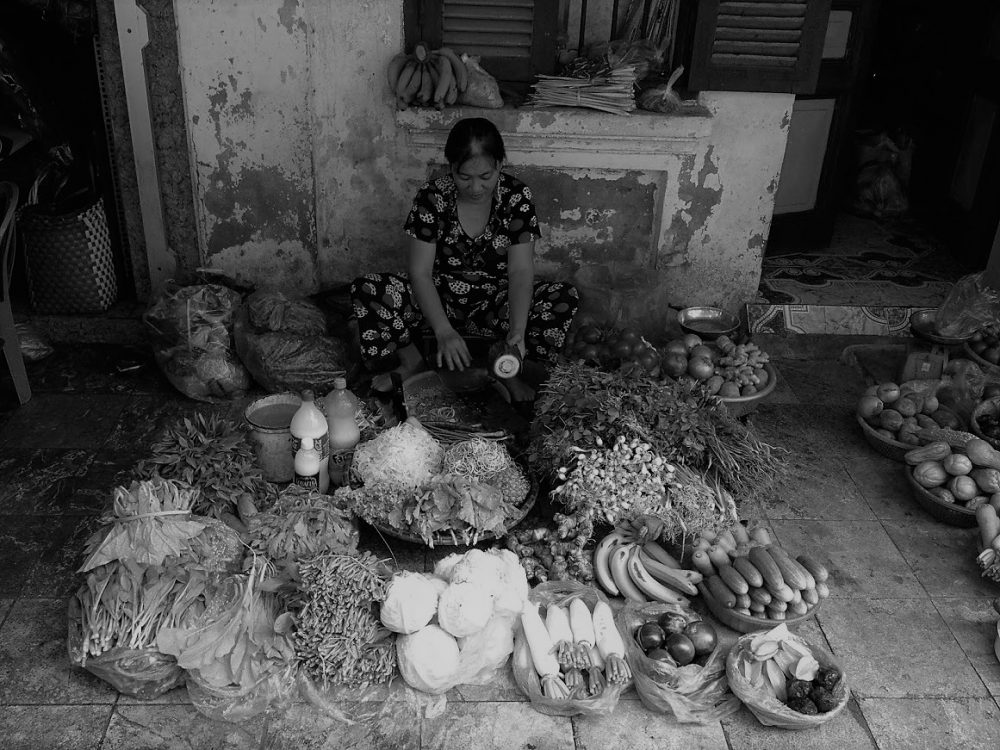 What problem is Altiorem trying to solve?
Social and environmental crises like climate change and poverty are urgent global concerns. These challenges are great and may feel overwhelming, but everything we need to build a better future already exists today!
The finance industry has significant influence on these issues and can drive many of the solutions the world needs, but is often trapped by inertia and resistance to genuine change.
While there is a strong body of knowledge making the case for sustainable finance, it is often difficult to find and apply these insights to real world problems. This leaves advocates disempowered as they struggle to voice their concerns and build support for their views.
There are many barriers to making finance a force for good. Relevant and good quality information shouldn't be one of them.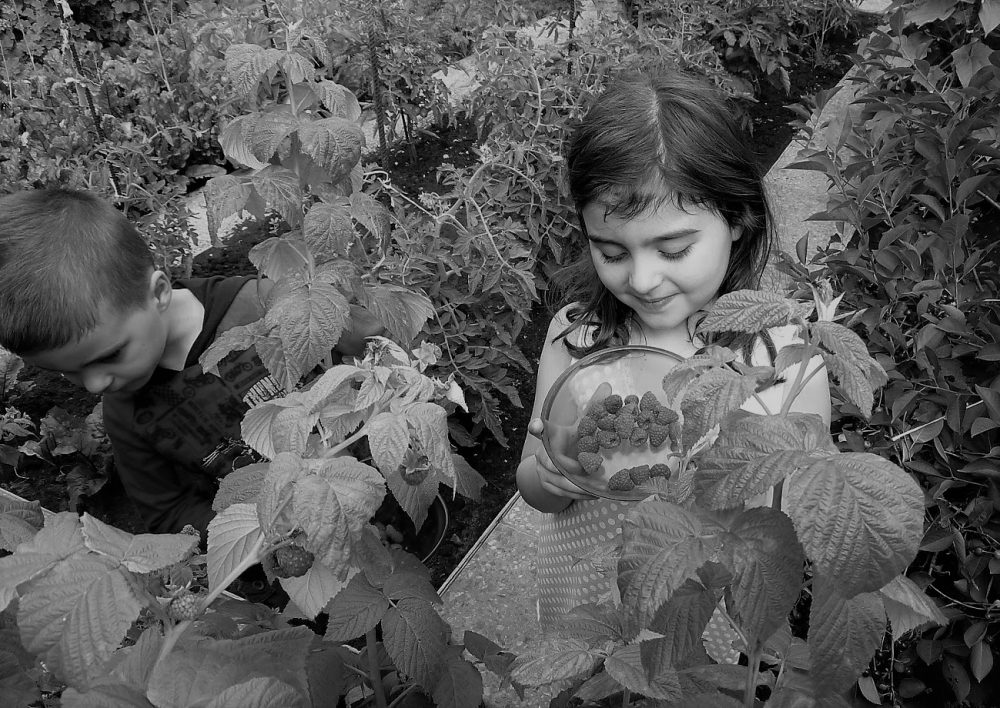 What do we mean by sustainable finance?
Altiorem's community believes that sustainable finance must be founded on principles of stewardship and responsibility. An industry which allocates financial capital and uses its significant influence to support flourishing social and environmental systems and solve the great challenges of our time.
Altiorem's vision is to reimagine and realign the financial system so that it supports and enables a sustainable, equitable and healthy environment, society and economy.
Our mission is to support current and future advocates in building the ethical, business, investment and economic case to advance sustainable finance and implement the changes needed to make it a reality.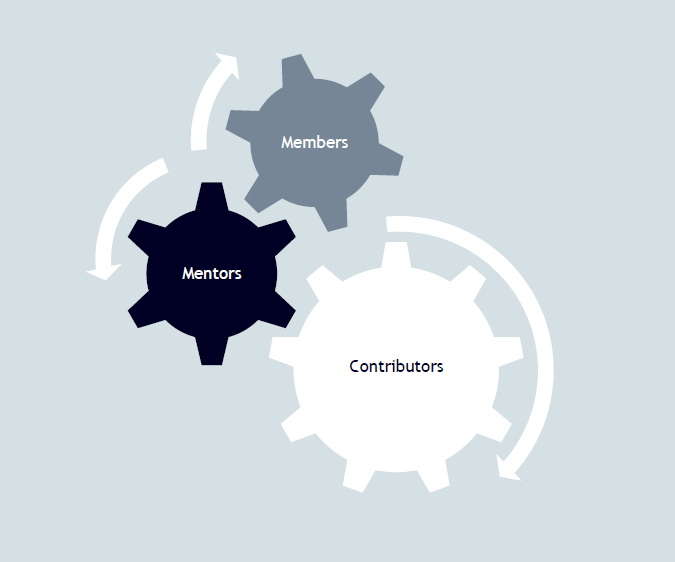 How is Altiorem being built?
Altiorem is a library, but it is also an ecosystem where university student volunteers (contributors), issues experts (mentors) and the community of users (members) benefit while building Altiorem together. Each member of the Altiorem community gives and receives while making a positive impact.
Contributors
Extend their learning and applied research skills, have the opportunity to work directly with experts, create social impact, and increase their professional profile through bylines and contributor profiles on the site.
Mentors
Mentor the next generation of finance leaders, create social impact, and increase their professional profile through bylines and reviewer profiles on the site.
Members
Become more effective advocates for sustainable finance and save time through their use of Altiorem. By suggesting and rating content they support the relevance and growth of the library and resource centre over time.
We would love to welcome you as a member of Altiorem's library or as a volunteer.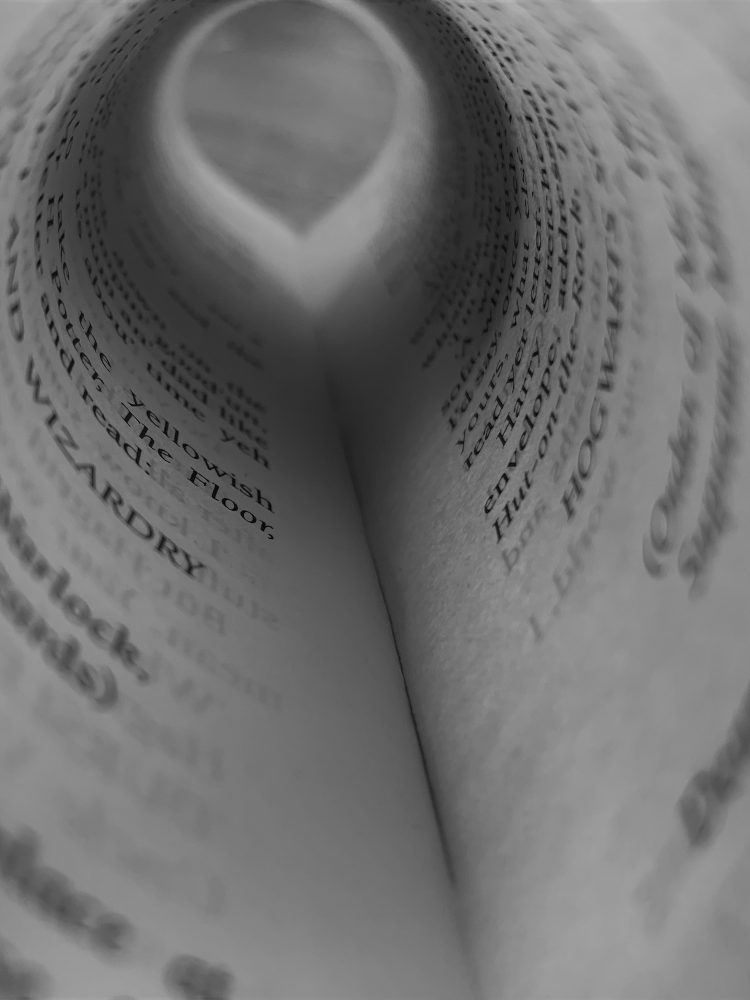 A library and resource centre for everyone working for a better world
Altiorem is for anyone who sees the power of finance to meet the great sustainability challenges of our time and wants to make it happen.
Finance professionals where sustainability is not their "day job"
Whether directly involved in making investment, insurance or financing decisions, or in other supporting roles, Altiorem helps users find credible information and tools to incorporate sustainability issues into their work and advocate for change.
Sustainable finance professionals
People in dedicated roles who require a reliable and evolving resource to assist them in advocating for and implementing sustainable investment and financing approaches. These users are also key contributors to the growth of the library and support the community of members.
Media, journalists and finance influencers
Altiorem helps industry influencers who want to bring environmental and social challenges into the centre of industry discussion and bust myths on the role of finance in addressing sustainability challenges.
Academics, NGOs and regulators
Many academics, NGOs and regulators understand the importance of sustainability issues but struggle to engage with the finance sector on them. Altiorem helps these users frame the issues for a finance audience and hold the industry accountable.
Students and the broader community
Finance touches the great majority of people around the world. Altiorem helps those who wish to improve their knowledge and engage with the industry to advocate for and promote sustainable investment and finance.
Flexible and powerful search are the heart of Altiorem.
Altiorem's library summarises and links high quality research to the practical steps needed to shift finance towards sustainability.
The needs of Altiorem's members are diverse, some examples include;
An investment analyst wanting to assess a company against good human rights practices;
A product manager wanting to make the business case for launching a new sustainable investment fund;
A journalist wanting to challenge a bank CEO on their approach to climate change; or
A member of a superannuation fund wanting to advocate for their fund to divest from fossil fuels.
In order to support these diverse member needs, Altiorem has organised its content into;
The ethical, business, investment and economic "cases" for change;
Guides on implementing sustainable finance strategies; and
The diversity of environmental, social and governance issues which sustainable finance must grapple with.
Read on to learn more about each of these groups.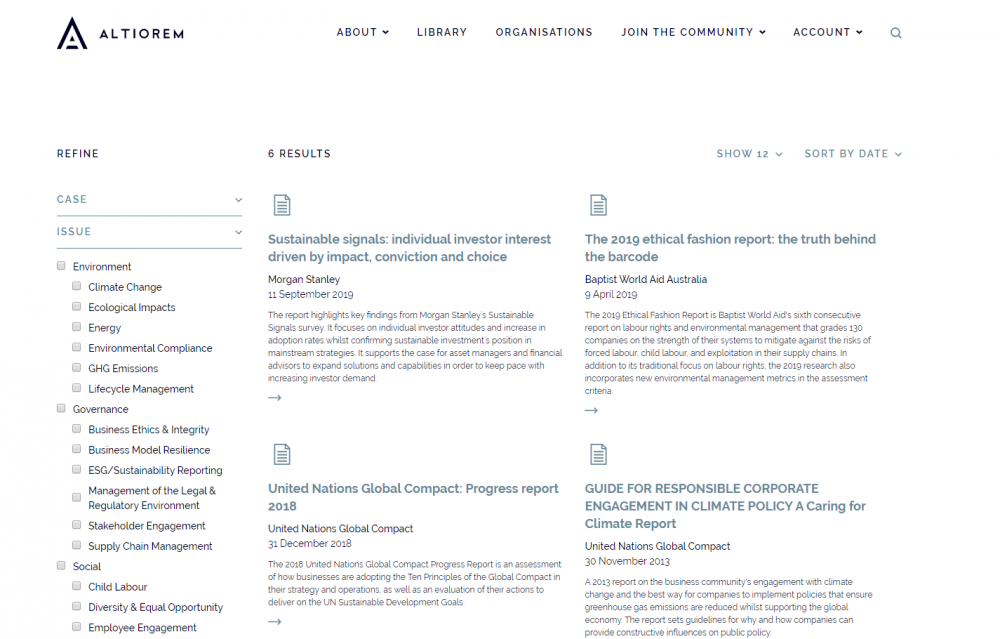 Filtering results
Altiorem's search feature allows members to search by word, by case, by implementation type or by issue.
When search results are delivered filters for these and other areas can be applied to further refine results by:
Cases;
Issues;
Finance relevance, which is the finance activity the summary is most relevant to, for example asset management or listed equity;
Location, which is the country or countries the summary is about e.g. labour rights in Cambodia;
Industry, which is the industry the summary is about e.g. supply chain management in the consumer discretionary companies;
Tags, which are additional tags that are applied to summaries.
For example, you may perform a word search for "human rights". On the results page you can use the filters to only include results which have been tagged with the "investment case" of "risk" and the "issue" "modern slavery". Members can reset and retry different filters.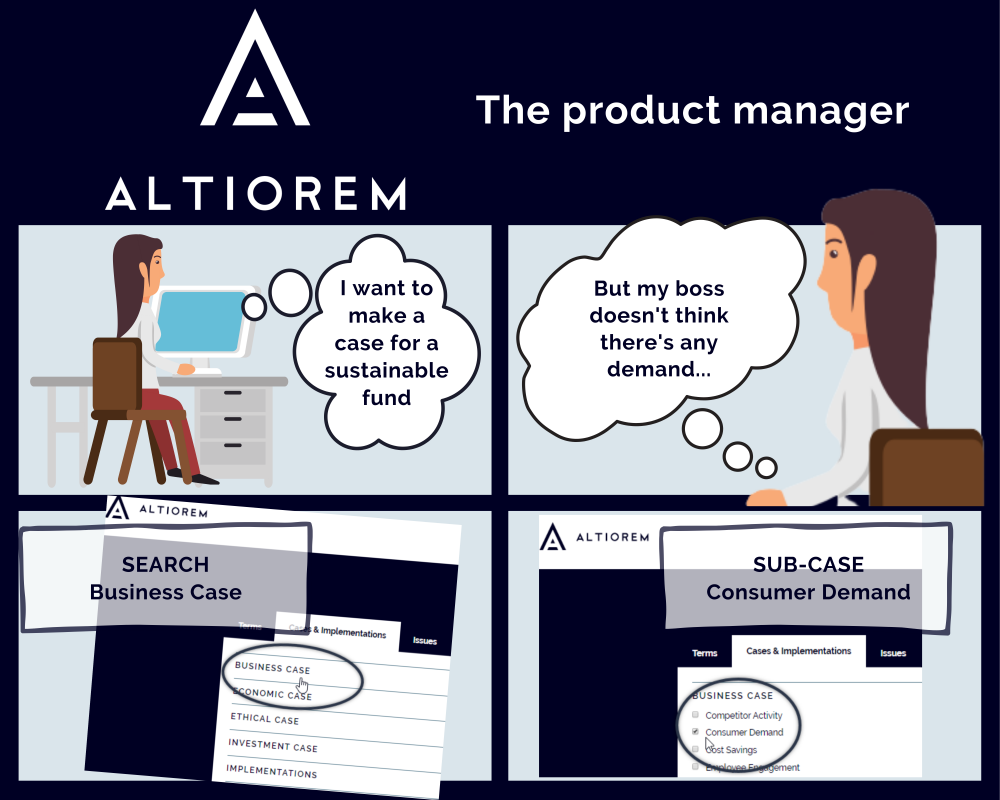 What do we mean by the case for change?
There are many good reasons for financial services companies to embed sustainability deeply into everything they do.
We call those reasons the "cases' for change and have broken them into four types:
Different cases resonate more or less with different people. A CEO may be most interested in the business case, while a Chief Investment Officer may be more concerned with the investment case, while a board of directors or a regulator may be just as interested in the ethical and economic cases.
Understanding the different cases helps Altiorem's members focus their efforts on the different underlying concerns and drivers which can hold back sustainable finance.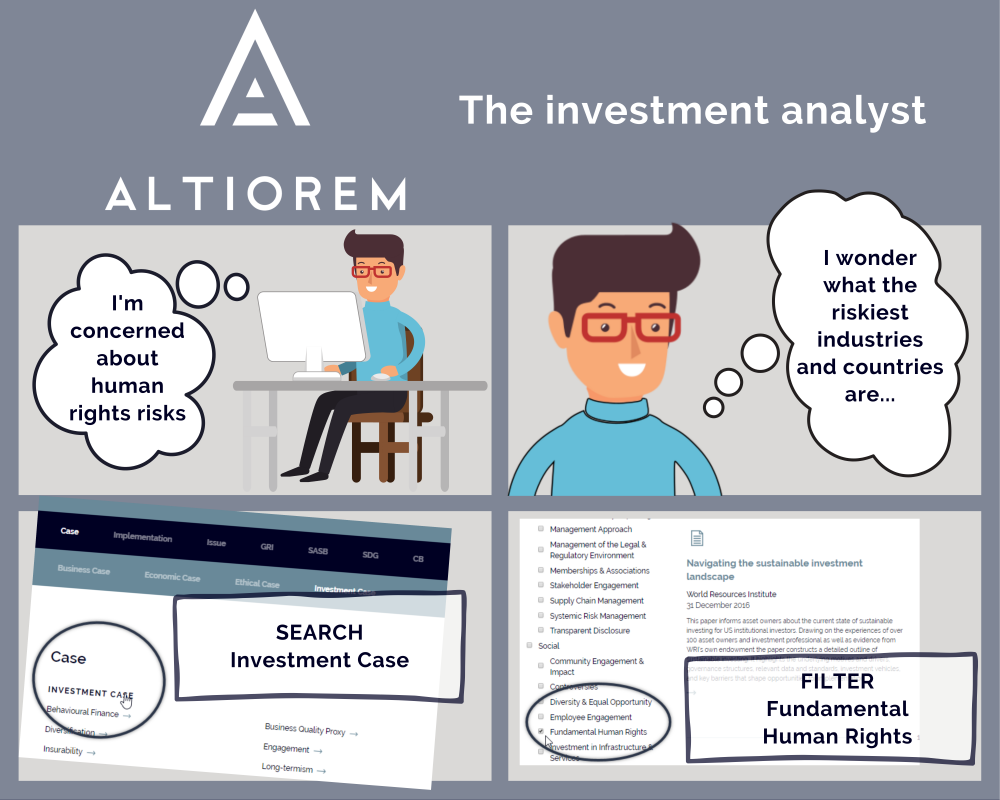 What do we mean by implementation?
Once the case is made, it is time to implement. Regardless of the context, Altiorem is here to help. In the same way Altiorem offers the evidence needed to support the case for change, it also provides the resources needed to implement the required changes including in areas as diverse as:
To be transformative, sustainability principles must touch all parts of financial services organisations; from the development of strategy, to the design of new products, to the application of investment processes, to the recruitment of new employees – sustainability issues are relevant in all these areas and more.
What do we mean by issues?
Sustainability for businesses relates to a wide variety of environmental, social and governance issues (commonly known as ESG). These issues can range from air quality to lifecycle management under environment, access and affordability to modern slavery under social, and business ethics and integrity to supply chain management under governance.
To determine the issues to include in the library, the Altiorem team referenced and mapped leading sustainability standards and frameworks to develop our own issue categories.
Altiorem members can search these issues on the home page or by clicking the magnifying glass in the top right corner of any page. Members can also search for specific issues under one of the leading standards Altiorem's issue categories are based on by visiting the library page;
Altiorem has been set up by a group of passionate advocates for sustainable finance. While the team below were the architects and laid the foundations, it is Altiorem's community of volunteers (contributors and mentors) who are building the house.
Thank you!
Many people and organisations who share Altiorem's vision for a more sustainable financial system have contributed to making the library a reality. We want to thank them for their contribution to changing finance for good.
Library Collections Policy
Policy Statement 
The Library Collection Policy aims to provide an accessible, valued and highly used electronic resource collection available 24/7 to the Altiorem community.
Application 
This policy establishes the principles and guidelines for the management and acquisition of library resources relevant to the Altiorem community and to account to the public for the selection of resources.
Altiorem's objective is to facilitate free and equitable access to curated electronic resources relevant to sustainable finance. Altiorem supports advocates for sustainable finance while also engaging and educating the next generation of finance leaders. The library is committed to ensuring the community has access to a current and relevant collection of library materials, with a diversity of credible content.
The reasons for preparing a Collection Policy include: 
Inform the community of the principles by which the library's collections are selected, maintained, developed and deselected. 

To keep the collection current, relevant and accessible; 

To ensure that the collection is continually monitored to meet changing community needs; 

As a management tool and for internal communication and training of staff; 

To ensure that professional objectivity informs the selection and weeding processes; 

Responsible management and allocation of collection budget for current and future priorities.
Best practice collection management requires that the collection's performance must be continually monitored to make sure it is meeting community needs. Resources must be constantly evaluated and out of date, superseded and irrelevant items replaced on a regular basis. Securing the budget to ensure the collection's success is a key factor in good collection management.
Definitions 
Collection Development: Collection Development refers to the process of planning, evaluating, building, maintaining, and weeding a library's collection to meet community demand.
Contributors: Volunteers who complete Summaries that ensure the material meets Altiorem's collection criteria.
Electronic Resources: An electronic resource is any information source that the library provides access to in an electronic format.
Mentors: Experienced finance or sustainability issue professionals who volunteer to support contributors in publishing content and in curating and prioritising new content and weeding the collection. 
Summaries: A dynamic document that identifies core collection requirements provided to library suppliers to assist in selection.
Sustainable finance: More than integrating environmental, social and governance factors into investment & financing decisions, it is an industry which, through the allocation of financial capital and positive influence, supports flourishing social and environmental systems with principles of stewardship and responsibility at its core.    
Trello: Electronic workflow and communications platform used by Altiorem to manage the collection.
Weeding: The continuous, systematic removal of resources from a library based on selected criteria.
Collection Management Principles – Library Collection
The library is an electronic resource collection. It includes materials available in a variety of formats which may include but are not limited to webpages, PDFs, eBooks, online databases and tools, online news articles, academic articles, videos and podcasts. While the relevance of the content of material is a primary consideration, the format can affect its suitability.
Altiorem is committed to providing resources that reflect the needs of Altiorem's community . Collections are shaped by feedback and suggestions from our community; this process is open to the public, with suggestions emailed to research@altiorem.org or via a web form accessible from most pages of the library. Suggested content is listed in the Trello board, Altiorem Workflow, for assessment.
Staff and Mentors evaluate suggested resources through applying the criterion of explicit demonstration of sustainable finance relevance. Accepted resources are categorised by priority, complexity, number of pages, topic covered and content type. All resources undergo a process where they are summarised by our community of volunteers before they are freely accessible to library members. 
Resources may not be excluded from selection based on personal taste, moral or political viewpoints, social or ideological variance. Resources will be considered for selection based on their own merit and the audience for whom it is intended.
To ensure the collection is maintained resources are regularly removed from the collection as part of the library's weeding program. Refer to the weeding guidelines below. 
Weeding Guidelines 
The weeding process is vital for Altiorem's capacity to continuously provide a current and relevant collection. 
The criteria used for removal of resources include: 
Content is outdated or obsolete

Content is no longer relevant to community needs 

Superior or more update content is identified and accepted in the library
Selection Criteria 
The collection is subject to the application of the following criterion:
Demonstration of explicit sustainable finance relevance. For the purposes of determining sustainable finance relevance, Altiorem staff and mentors refer to those subjects defined in Altiorem's taxonomy of issues, cases and implementation activities. 
Once approved the collection is prioritised for inclusion according to the current needs of the library, for example if a gap in human rights content has been identified, suggested content which fills that gap will be prioritised. 
The Collections
The collection is organised in accordance with Altiorem's taxonomy of issues, cases and implementation activities. Staff and volunteers can find out more about the Taxonomy on Trello and in the latest Contributor Manual located on the Altiorem Workflow board on Trello.
Collection Management and Responsibility 
The Head of Research and the Business Manager are responsible for the development and implementation of collection management guidelines.
Budget
Altiorem procures freely available electronic resources. The budget for Altiorem's collection is focused on providing a website that is easily navigated and information that is current and correct to ensure the library collection is accessible and relevant to the community.
Policy Review
This Policy will be reviewed every two years or as required in the event of legislative changes. Any amendment to this Policy must be by way of the approval of Altiorem's Managing Director.
Approved by the managing director on 3 April 2020.
Library Operations Policy
Policy statement 
Altiorem's operations policy outlines how Altiorem provides and maintains an accessible, high quality, comprehensive and useful sustainable finance library for our members. 
Objective
The primary objective of the Altiorem Library is to facilitate free and equitable access to quality assured information on electronic resources dedicated to sustainable finance. Altiorem supports advocates for sustainable finance while also engaging and educating the next generation of finance leaders. The library's operations seek to ensure the community has access to a current and relevant collection of library materials, with a diversity of content in a variety of formats. 
Altiorem's ecosystem 
Altiorem has developed a scalable and flexible ecosystem which allows university student volunteers (who we call contributors) to work with experts (who we call mentors) to summarise and categorise research and other content for the library. Altiorem provides the tools, templates, taxonomies and training necessary to produce high quality, reliable, consistent and usable information for the Altiorem community (members of the library). 
The system also relies on the community of users to suggest new content. The network effects which stem from these interactions will allow the library to continuously improve and maintain relevance to the community's evolving needs.
Collection management and development 
See Altiorem's Library Collection Policy for the principles and guidelines for the management and acquisition of library resources relevant to the Altiorem community.  
Website maintenance
Maintenance of Altiorem's information webpages are updated on an ongoing basis with formal review occurring at least annually. 
Systems maintenance 
Altiorem uses several external online services to organise library content and communicate with volunteers. Altiorem's external systems will be reviewed annually or as required. 
Security of systems 
Staff, contractors and volunteers are authorised to use Altiorem's accounts when assigned a user account or granted access by Altiorem to user only areas. Altiorem's user only areas include:
Users must maintain good security hygiene of the device, including the following:
Turn on automatic updates and ensure software receives the latest fixes;

Use security software and configure security features such as firewall and anti-virus / anti-malware; and

Password protect their device.
A device must not be used where it is known to have a security compromise. Users must reinstall the operating system and all software from trustworthy sources before continuing to use the device.
Users must not store confidential or valuable data on a personally owned device, instead it should be uploaded to the relevant cloud systems such as WordPress, Trello or Google Drive.
Membership 
Altiorem seeks to:  
Provide clear and intuitive avenues for member feedback and correspondence.

Demonstrate responsive and professional communication with member correspondence. 
Complaints and grievances 
Members can make a formal complaint by completing the feedback form on the website or by contacting Altiorem at info@altiorem.org. 
Altiorem will respond to all complaints. The complaint will be managed in accordance with Altiorem's complaints procedure. 
Complaints procedure:
Listen to the complaint

Record details of the complaint

Get all the facts

Discuss options for fixing the problem

Act quickly

Keep promises

Follow up
Managing stakeholder relations 
Altiorem is committed to working with a broad range of stakeholders including professional network members, industry organisations, university employees and students, Altiorem members and the community. Altiorem values the expertise, knowledge and experience that stakeholders contribute and aims to harness this to ensure that the best informed decisions are made in relation to Altiorem's strategic priorities, policies and operations. Although it is not possible to always collaborate or consult, Altiorem is open to different views, needs and expectations to continuously improve and better target objectives of the Altiorem Library. Altiorem is committed to building relationships with stakeholders and the community based on trust and respect, to achieve these objectives.
Marketing and social media 
Altiorem uses social media to communicate to our community, to attract new users and to further our mission of changing finance for good. All published posts must embody the correct application of Altiorem's branding and logo. Altiorem staff must use social media in accordance with principles of integrity, professionalism and respect for others and Altiorem. 
Library Staffing Policy
The Australian Library and Information Association (ALIA) characterises the qualities and skills of public library staff as: 
The ability to understand the needs of users 

Knowledge of the library's collections, programs and services and to efficiently access these

The ability to communicate positively with people

The ability to work with others in providing an effective library service

The ability to cooperate with individuals and groups in the community

Imagination, vision and openness to new ideas and practice 

Knowledge of and ability to use ICT to improve service delivery and customer use of information. 
Changes in how people discover, access and consume information have prompted changes in library services, leading to a need for different skills in the library workforce. It requires staff who embrace the potential of technology and creatively find appropriate ways to embed it in library services. 
Professional and continuing education of the library workforce is essential to a sustainable quality library service. 
Objective
To ensure that the number, competencies and mix of library staff support a range of services and programs which meet the needs of the community. 
The primary objective of the Altiorem Library is to facilitate free and equitable access to quality assured information of electronic resources dedicated to sustainable finance. Altiorem supports advocates for sustainable finance while also engaging and educating the next generation of finance leaders. The library is committed to ensuring staff have the support and skills needed to provide our members with a current, relevant and diverse library. 
Staffing requirements 
Library staff include both paid and suitably qualified and experienced volunteers, who are appropriately trained to discharge their particular job responsibilities. 
The Head of Research is a paid position and is responsible for maintaining the collection and managing volunteers in accordance with the collections policy. Staffing levels are sufficient to deliver the services set out in the library's strategy or plan, and are appropriate for the library's community. 
Altiorem is an online library enabling our members 24-hour access to our electronic collections.
Staff requirements to ensure the quality delivery of Altiorem Library material to its members: 
Maintain library collections in accordance with the standards outlined in the Collections Policy, Contributor Manual, Mentor Manual, Altiorem taxonomy and other relevant policies and procedures. 

Making use of training, video sessions,  live Q&A and other support available to staff and volunteers in managing the collection. These include use of Altiorem's workflow tool (Trello) and communications tool (Slack).

Ensure members are supported by monitoring member communication and responding to members in a professional and timely manner.
Staffing Mix
A library service's commitment and responsiveness to its community is reflected in the mix of library staff selected to provide library programs and services. 
Altiorem is a specialist library dedicated to electronic resources on sustainable finance. Due to Altiorem's focus, the staffing mix is comprised of both specialist (sustainable finance) staff and non-specialist (operations) staff. 
Altiorem is a community focused and community run library that relies on a network of sustainable finance students and professional volunteers to ensure the collections are current, relevant and diverse. See our Volunteer Policy for further information. 
Professional development 
All library staff are educated on Altiorem's operations, policies, standards and culture upon induction. Any changes or updates to Altiorem's operations, policies, standards and culture are explicitly communicated to staff. This seeks to ensure that staff have the sufficient knowledge and skills to undertake the requirements of their roles with a minimum of supervision. 
We facilitate and actively encourage ongoing professional education on a formal and informal basis. Formal training is supported by informal skills transfer, mentoring and information sessions for staff. 
Library staff are encouraged to participate in reading, online exchange of ideas, and by attending courses, conferences, and meetings. 
 Review
This Policy will be reviewed every two years or as required in the event of legislative changes. Any amendment to this Policy must be by way of the approval of Altiorem's Managing Director.
Approved by the managing director on 3 April 2020.